blog
Real Networks Don't Have Leaders
September 11 and Distributed Networks
September 11, 2012
On September 11, 2001 I was supposed to meet with Rick Harshman, an Akamai account executive, in my Los Angeles office. I only remember Rick's name eleven years later because it kept staring at me from my Outlook calendar that morning suggesting an alternate timeline. I can't remember why we were going to meet; I was working at a design studio consulting to Sony Pictures, and our meeting probably had something to do with distributing media for the online promotion of Sam Raimi's Spider-Man the following year. It wasn't important, even then. Everyone was going to see Spider-Man anyway.
Rick's flight never left Boston, but later I found out that Akamai co-founder and CTO Danny Lewin had been killed on American Airlines Flight 11, which crashed into the World Trade Center North Tower. Lewin may have endured greater—or at least longer—suffering, as the 9/11 Commission reported that he was likely stabbed in the throat while trying to disrupt Mohamed Atta's effort to hijack the plane. In a perverted example of our cultural obsession with firsts, Lewin is sometimes called the "first victim" of the September 11 attacks.
Today I visited Akamai's website tribute to Danny. It's trite like corporate communications have to be, but also strangely earnest. In a pool of empty calls to "never forget," it seems to admit that 11 years is a long time ago: "Even as the years pass by, Danny's spirit and energy remains strong in all of us at Akamai." In 2000, Akamai was a tech infrastructure darling. It weathered the dot-com crash because it offered a service of real rather than imagined value. Eleven years later, AKAM trades at around eleven times it's September 11 stock price, but nobody thinks much about the company. It's just a business-to-business utility.
I was in the office early that morning to avoid the freeways. The Internet barely worked as traffic bombarded news sites. Ironically, that's the sort of thing technology services like Akamai are supposed to overcome, by distributing content globally so that requesting traffic would receive a nearby, local version. That works fine when you know what you want to distribute in advance, things like the bad marketing for summer films that will just be remade anyway. I had to turn on a radio in a nearby cubicle to hear the news.
Distributed networks. It's a boring and mundane and perhaps even insensitively crass topic to bring up when remembering 9/11, but a thematically rich one too. Unlike state-based wars, the war on terror battles a loosely-affiliated network, an enemy distributed across weak ties. Today, eleven years and $4 trillion later, we may or may not be safer or more secure, let alone more understanding of why we were attacked in the first place. Yet still take comfort in the fall of Al Qaeda's leader, forgetting that real networks don't have leaders. Just as the Internet's precursor, the packet-switched ARPANet, was designed not to have a central control in the case of nuclear catastrophe.
Today our networks still fail often because they are not really networks. Yesterday, an Anonymous member's attack on Go Daddy took down millions of websites. Twitter, one of today's most celebrated source for breaking news, laughs off its unconcern with reliability via a cartoon whale. Amazon Services (where Rick Harshman now works) has become an increasingly common host even for large online businesses, but even it can go down thanks to a routine summer storm. We don't much notice, because it doesn't really matter. Save for the paper net worth of VCs and their entrepreneur gaggle, nobody's life depends on being able to load Pinterest or to #lol. And so we centralize our media, our servers, our businesses, our wealth, our ideas ever further.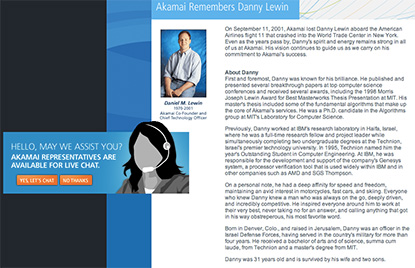 As I was reading Akamai's tribute to their fallen founder today, one of those live-chat prompts appeared on the right side. "Hello, may we assist you? Akamai representatives are available for live chat." It seemed awkward, inappropriate at first. Is this the best webpage from which to hawk Internet content delivery? Maybe it was meant to be therapeutic: offshored therapy. Probably it was just accidental. No matter the case, it's strangely poetic: a distributed terrorist network attack whose first victim is the executive of a technology company meant to bolster the distributed performance of networks. A company that has pressed on and thrived even without its leader, by doing business every day—even today. I wonder, who else might have learned that lesson?
About the book
About the book
About the book
A Slow Year
Game Poems by Ian Bogost
About the game
About the book
Guru Meditation
for Atari VCS and iPhone
About the game
About the book
About the book
About the book